Are you in the market for a new home but struggling to come up with the necessary down payment? Well, there's good news! Many lenders are now offering the option to put down just 10% for purchases up to $2.5 million.
This can be a great option for those who may not have the full 20% down payment saved up, or for those who prefer to keep more cash on hand for other expenses or investments.
However, it's important to remember that putting down less than 20% may result in higher monthly mortgage payments, as well as the possibility of having to pay for private mortgage insurance (PMI). It's also important to consider the overall cost of the home, including property taxes, insurance, and maintenance.
If you're interested in exploring this option, it's important to speak with a lender to discuss the specifics of your situation and to determine whether it's the right choice for you. With a little bit of research and some expert guidance, you can find the best option for your needs and start on the path to homeownership today.
Here's an example scenario for a $2,500,000 purchase price, primary home, using today's rates: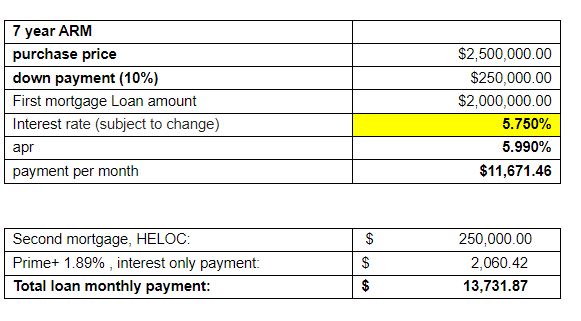 Message me to find out more.